X

We did it (and was a success!)

Here it is the fantastic Team that made possible TEDx ViaDellaConciliazione «Religious Freedom Today»! Thanks to all!

X

Thank you all for such an awesome experience!

Here they are together the awesome Speakers to this TEDx ViaDellaConciliazione «Religious Freedom Today»! Thanks to all!

X

This TEDx event «ViaDellaConciliazione-Religious Freedom Today» brings together a wide range of speakers of different professions and faiths to promote respect for religious freedom as a human right.
BLOG & NEWS
Press Conference in Campidoglio

A MEANINGFUL STEP FOR RELIGIOUS FREEDOM (the TEDxVDC Team, from left to right: Alessandro Selvitella, Adriana Colonna, Giovanna Abbiati, Angelo Germano, Father Hector Guerra, Maria Rita Marinaro, Luciano Giustini, Francesca Pica) ROME, April 15, 2013 In the beautiful environment of the "Sala dell'Arazzo" we held the press conference, which was attended by the Rome […]
A TEDxVDC Interview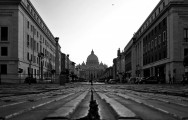 TEDx CONFERENCE COMES TO THE VATICAN International Meeting Will Discuss Religious Freedom in Today's World Antonio Gaspari ROME, January 8, 2013 (Zenit.org). It has been known as "the 'Oscars' of Ideas", "the genius of Hollywood.  The Technology Entertainment Design conference, better known as TED, is a mix of science, communication and entertainment which follows […]
Welcome!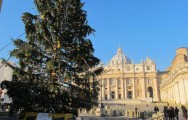 Welcome to TEDx ViaDellaConciliazione! When the Ted and Tedx programs where first presented  at APRA,  the first time ever in a Pontifical University in Rome,  the erudite audience was enchanted. We all shared a deep sense  of universality and brotherhood.